Small Plastic Hexagon Button Earrings
These are small plastic hexagon button earrings designed by Plexi Shock.
The hexagon is the symbol of creation: Pythagoras considered this geometric figure characterized by two crossed triangles to be perfect.
These small hexagons belong to our "minimal" collection and the best way to learn to love plexiglass is to discover it on simple things like a round, or a hexagon or a triangle.
So try them and match them to your funniest clothes. A seventies revival in a completely shocking wind.
Hypoallergenic surgical steel hooks (see photo).
OUR SURGICAL STEEL HOOKS ARE OF EXCELLENT QUALITY OF ITALIAN MANUFACTURE,
♥♥♥ Choose your color ♥♥♥
Additional information
| | |
| --- | --- |
| Colors | 1 red, 2 brown, 3 linen, 4 light grey, 5 dark grey, 6 black, 7 pink barbie, 8 pink, 9 strawberryflamingo, 10 salmon, 11 chocolate, 12 sour grape, 13 electric blue, 14 night blue, 15 violet, 16 orange fizz, 17 full orange, 18 vintage orange, 19 military green, 20 pushed celestine, 21 spearmint green, 22 candy floss blue, 23 blue sea, 24 petroleum, 25 white, 26 milk, 27 yellow, 28 ochre, 29 pushed linen, 30 acid green |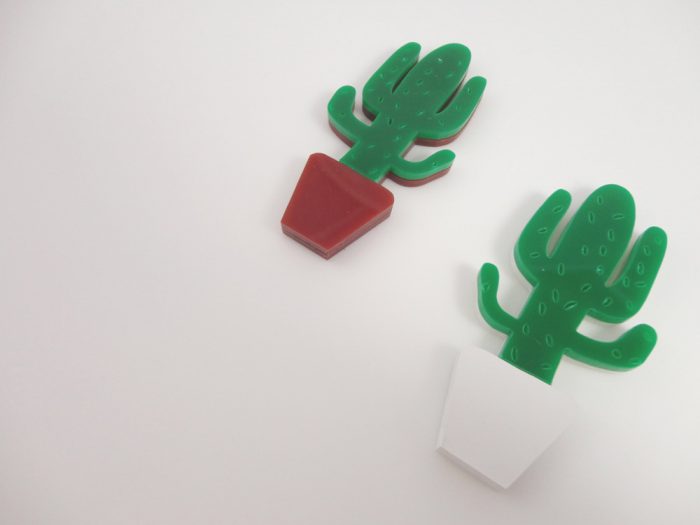 Candy & The Sky, Brooches
This is a plexiglass cactus brooch available in two colors and produced with Love by Plexi Shock.
€

25.00